There are a lot of smaller designs that can be used. In general, I don't like them. A little flower or star or whatever can be cute, but I greatly prefer the full nail or french tip designs.
Once - just once - I did a manicure using the smaller images that I really liked, and only because I layered the images using several different colors of nail polish. It was a royal PITA, but I loved the outcome.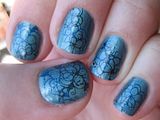 That's China Glaze DV8 with Calypso Blue and Midnight Ride over it. The designs are both from plate M51.
I really should do stuff like that more often.