I have a lot of images that I've never used. This was one of them: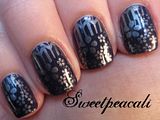 Zoya Pinta, China Glaze Awaken, PlateM74
I've had plate M74 for a while and love the other images on it, but for whatever reason had never gotten around to using this particular one. Now that I have, I can't figure out why I waited so long!