It's been a while since I posted anything, mostly because there wasn't anything to say. Last summer was awful for my clematis because of the painting fiasco, and my African Violets were just little struggling babies.

Of the 13 varieties that I started from leaves in October of 2007, only a few survived. However, the ones that have lasted have grown nice and strong, and now I have more plants than I know what to do with!
Here's what I originally was trying to grow. I've crossed out the ones that didn't make it. Note that these blooms are NOT from my plants. I found pictures on the internet. Pictures from my collection are below. A lot of these are pictures of award-winning plants. I can only hope that mine will be this nice someday!
Outer

Limits

12/17/2005 (Lyndon Lyon Greenhouses/D. Herringshaw) Single-semidouble blue large frilled pansy/pink and white fantasy. Dark green, plain/red back. Large


Dazzling Fantasyland (9521) 12/17/2005 (Lyndon Lyon Greenhouses/P. Sorano) Single-semidouble light pink pansy/blue fantasy, violet-red edge. Dark green, plain/red back. Large


Sinister Shadow (Lyndon Lyon Greenhouses) Deep, dark purple, single and semi-double pansies. This variety is more like the older type of violets. The standard, dark green foliage, is variegated in beige on the leaf edge.Standard.


Sora Zachariah (B. Werness) Light blue semidouble blossoms edged in white and green, over variegated foliage of dark green and white. (User Database)


Sheer Romance (6752) 11/02/1987 (S. Sorano) Double pink star/white edge. Medium green, ovate. Large


Rum Punch (S. Sorano) Semi-double double medium pink star/mauve tips. Dark green. Standard


Sweet Lady Love (LLG)Medium pink, semidouble pansies, with a dainty frilled, thin white edge. Occasionally, green shows up on the top petals. A profuse bloomer! Well shaping, standard foliage of medium green, slightly quilted. Standard.


Silver Smoke (LLG)Clusters upon clusters of the palest shade of lavender, semidouble, pansy shaped blossoms are marked strongly in green on the petal edges, and are produced above medium green, quilted and pointed, lightly wavy show foliage, sporting a silver reverse. Standard.


Alison's Laughter (LLG)Very large, double stars of medium purple, with a thin white outline on very frilled edges. Raspberry fantasy flecks playfully decorate the flower face, and occasionally, blue streaks also join in. The standard foliage is large growing, dark green, with a red reverse, and quilted. Awarded "2nd BEST NEW CULTIVAR", at the 2006 AVSA convention.


Wrangler's Jealous Heart (6225) 05/20/1986 (W. Smith) Double pansy, ruffled/light pink and green edge. Variegated dark green and pink, ruffled, hairy. Large


Harlequin (Holtkamp) 6947 - Single fringed white with purplish red edges. Medium green foliage.


Chanticleer (1386) 08/05/1963 (Eyerdom) Double light pink. Dark green, ovate, pointed, quilted

So, here's what we've got on the shelves now. Almost all of the babies are out of the 1 oz. plastic solo cups and are in "big girl" pots (2" plastic square pots) now. A couple have graduated to bigger Oyama planters, but not many.
Dazzling Fantasyland. I have 2 or 3, but only one is this big and blooming.

Sweet Lady Love. This one propagated ridiculously well - I have about 6 of them. None have bloomed yet, but there are buds forming. I love the ruffly leaves on it.

Sinister Shadow. Only have 1, and one more that I'm not sure is going to make it. I just noticed buds on the healthy one today. The variegation on the leaves is so nice; I'm hoping the baby survives so I can have 2 healthy ones.

Rob's Vanilla Trail. Not one of the babies I grew from leaves, but so cute that I wanted to share.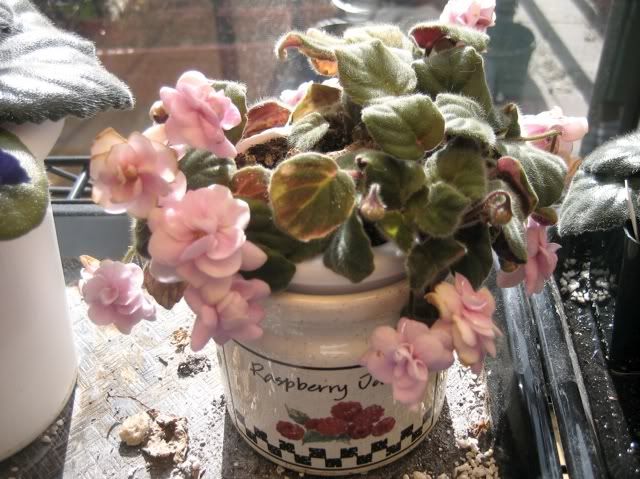 This one doesn't have a variety name, but it is one that I grew from a leaf off a momma plant. Unfortunately the momma plant died recently, so I'm doubly glad that the baby did so well. I have another of this kind in my office growing in hydroton.
Silver Smoke. This is another that propagated like mad. I have four and they'll all doing really well, although this one was the first to bloom.
Outer Limits. This is the craziest of all of the ones I grew from leaves. Off of two leaves, I wound up with eight healthy plants. It got to the point where I had to throw away some of the babies simply because I was running out of space!
Here's a shot of the second shelf, taken from the left: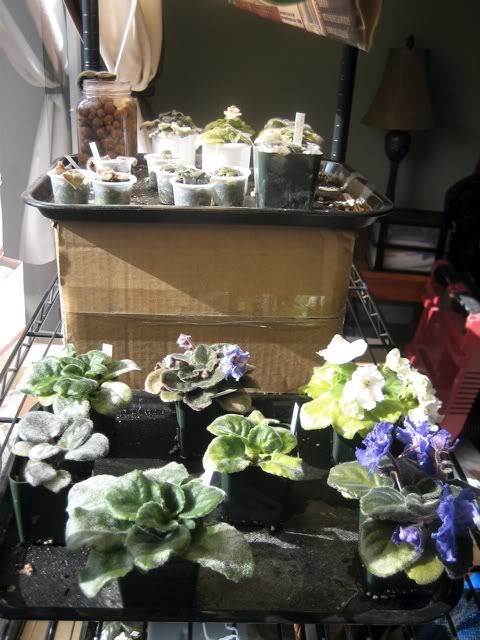 And here's one from the right: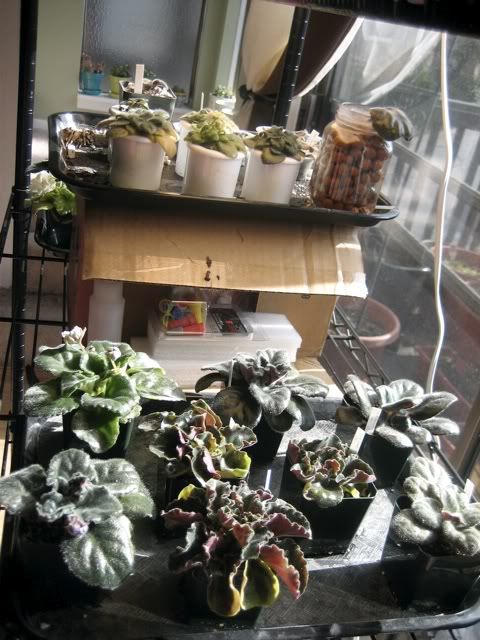 Here's the first shelf, from the right. The pot on the lower right has lithops in it.



And finally, the first shelf from the front:

That's it for African Violet stuff. Things are progressing nicely on the balcony, but it's hardly photo-worthy out there yet. New clematis shoots are just barely starting to come out, the tulips are starting to come out of hiding, and the few crocuses I planted are blooming. I have high hopes for the clematis this year. It's their third year, which is supposedly when they really take off. Hopefully last year's set-back won't effect this year's growth!