Monday, May 4, 2009
My seeds came!
My seeds came in the mail! I don't think the rain is going to let up long enough for me to get everything set up outside, so I'll probably set up the boxes inside and then carry them out. The tomatoes and the tomatillos can't be direct seeded, which sucks because I'm starting them waaay late, but I have huge bright windows at my office now. I'm thinking I'll put the pots on my windowsills there, and then bring them home when they're big enough to go outside!
Okay, I know. I'm terrible. I haven't posted in forever. I have a good excuse, though - it's impossible to take pictures of my m...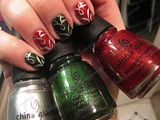 Since Seche Vite is such a huge part of my manicure routine, I tend to mention it a lot. Seche Vite, however, has a learning curve associate...