Wednesday, October 28, 2009
I'm in New Orleans!
After years of wanting to visit New Orleans, I'm finally here! Will be gone until Sunday, so no new posts until at least then. Sorry!
Okay, I know. I'm terrible. I haven't posted in forever. I have a good excuse, though - it's impossible to take pictures of my m...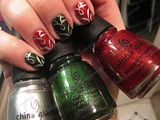 Since Seche Vite is such a huge part of my manicure routine, I tend to mention it a lot. Seche Vite, however, has a learning curve associate...