Up until now I've only showed full nail images, but there are a ton of gorgeous french tip images available as well.
These are particularly nice on nails that are just a smidge too long for the full nail images (without double stamping, I mean).
I like to not use the full image, so as to leave the tip image a bit thinner than it's meant to be. That's just a personal preference - I like the look of having longer nail beds and less white to my nail.
(Yeah yeah, I'm going to mention clicking to view the larger image again, although I'm sure you've already figured it out and are sick of me mentioning it. Click for the larger image. There. I said it. Neener.)
Observe. Here's the look I do not like, with the image wider than I feel is attractive: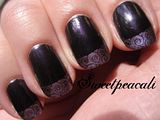 China Glaze Midnight Ride, China Glaze Harmony, Plate M56
Zoya Emme, Konad Special Polish in Black, Plate CO6 (Coraline Collection)
Essie Pink Parka, Color Club Revvvolution, Plate CO6 (Coraline Collection)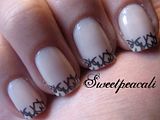 China Glaze Hope Chest, China Glaze Awaken, Plate M73
That was what I do not like. It's very easy to only use part of the image, though, and thus make the tip look smaller and the nail bed look longer: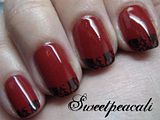 Essie Lacy Not Racy, Konad Special Polish in Black, Plate M56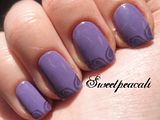 China Glaze Spontaneous, Konad Special Polish in Violet Pearl, Plate CO6 (Coraline Collection)
There. I like those manicures much better. The nail bed looks longer, the length looks prettier, and the overall effect is much more tidy.
I put off trying the french tip images for a long time. I was worried I would screw up the alignment and the images would be diagonal on each nail. I was surprised to realize that they are not as difficult to use as I would have thought. By holding my hand up with my palm facing me, and looking at the stamp while I place it on my nail, I can do a fairly decent job of placing the image where I want it on my nail. I'm still not fantastic at getting the alignment perfect, but it's not as noticeable as I thought it would be, and as I practice more I'm sure I'll get better.
Plus, it's fun. :0P